Fiat 500 Dashboard Light Symbols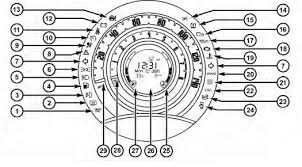 1 – Fiat 500 glow plug light
2 – Fiat 500 rear defrost button
3 – Fiat 500 front fog light indicator (if equipped)
4 – Fiat 500 low fuel light
5 – Fiat 500 high beam indicator
6 – Fiat 500 park/headlights ON indicator
7 – Fiat 500 turn signal indicators
8 – Fiat 500 generic warning light
9 – Fiat 500 airbag warning light
10 – Fiat 500 cruise control indicator (if equipped)
11 – Fiat 500 seat belt reminder light
12 – Fiat 500 battery charging system light
13 – Fiat 500 power steering system warning light
14 – Fiat 500 electronic throttle control warning light
15 – Fiat 500 tyre pressure warning light
16 – Fiat 500 automatic gearbox failure warning light
17 – Fiat 500 oil pressure warning light
18 – Fiat 500 malfunction indicator lights (MIL)
19 – Fiat 500 engine temperature warning light
20 – Fiat 500 brake warning light
21 – Fiat 500 electronic stability control warning light (ESC OFF)
22 – Fiat 500 electronic stability control malfunction warning light
23 – Fiat 500 ABS ant lock braking system warning light
24 – Fiat 500 door open warning light
25 – Fiat 500 temperature gauge warning light
26 – Fiat 500 odometer/trip counter display area
Fiat 500 engine warning light – this light will stay illuminated if there is a malfunction within the engine after start up –
Fiat 500 ABS warning light – indicates a problem within the ABS or Anti Lock Braking System.
Fiat 500 SRS airbag warning light – indicates a problem within the airbag system and needs to be checked out ASAP.
Fiat 500 coolant warning light – warns of an overheated engine condition. The engine coolant temperature indicator will illuminate and a single chime will sound after reaching a set threshold.
Fiat 500 Tyre pressure warning light – check your Tyre pressures as one or more Tyres needs to be pumped up.
FIAT 500 DASHBOARD WARNING LIGHTS
---
GENERIC FAULT  WARNING LIGHT
The generic fault warning light illuminates on the Fiat 500 due to a variety of faults. For further information on the various fault possibilities that can occur when this symbol is illuminated, see: Fiat 500 generic warning light.
SPEED LIMIT EXCEEDED
The generic warning light illuminates on when the speed limit manually set in the Setup menu has been exceeded. When the vehicle exceeds this speed, on some versions of the Fiat 500 a message and a warning symbol are shown on the display along with an acoustic sound.
EXTERIOR LIGHTS FAILURE
The failure or fault relating to any of these lights could be one or more blown bulbs, a blown protection fuse or a break in the electrical connection. The generic warning symbol will illuminate when a fault or failure to one of the following lights is detected:
side lights
daytime running lights (DRLs)
direction indicators
rear fog light
reversing light
number plate lights
brake lights (for versions with multifunction display only)
---
EOBD INJECTION SYSTEM FAILURE  WARNING LIGHT
Symbol should come on with the ignition turned to MAR and go out shortly after. If the symbol remains on or comes on whilst driving this signifies a fault with the supply/ignition system that could cause excessive exhaust emissions, possible loss of performance, poor vehicle driveability and high fuel consumption. Vehicle can still be driven the system remedy is required soon. Constant use of vehicle with warning light on may cause damage.